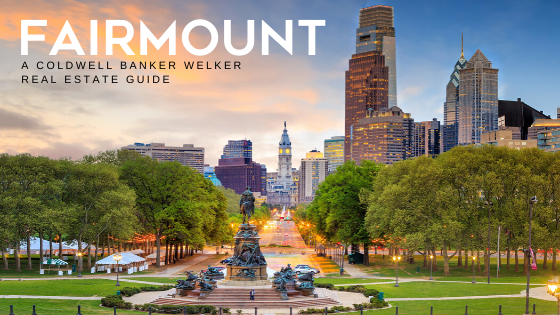 Fairmount, Philadelphia
Fairmount was named by William Penn, the founder of Pennsylvania and Philadelphia, after the large hill where he intended to build his manor.  Fairmount has been inhabited by farmers and prominent families since the founding of Philadelphia, however Fairmount wasn't officially part of the city until 1854.  Fairmount has been home to Coldwell Banker Welker Real Estate for over thirty years and we're excited to share with you all the reasons why it's a great place to live.
Boundaries
Fairmount is located north of Center City and is often referred to as the Art Museum Area due to it's proximity to the Philadelphia Museum of Art and other notable attractions.  General neighborhood boundaries are north of Spring Garden Street, west of Broad Street, east of the Schuylkill River, and south of Girard Avenue.
Points of Interest
Fairmount is home to many of the city's greatest attractions.  The Rodin Museum, The Barnes Foundation, The Franklin Institute, The Academy of Natural Sciences, and the flagship branch of the Free Library of Philadelphia all anchor the Benjamin Franklin Parkway, home to many of the city's parades, festivals, and of course, the famous Independence Day Fireworks. Fairmount Water Works and Eastern State Penitentiary have stood the test of time and many transformations throughout the course and evolution of the Fairmount neighborhood.  With so many world-class attractions at your doorstep, you'll never run out of things to do close by.  
Food & Drink
Philadelphia is famous for its world class dining and Fairmount is home to many fine establishments.  Neighborhood favorites include Bishop's Collar, Figs, Trio, Zorba's, Jack's Firehouse, Urban Saloon, Little Pete's, Pete's Famous, Luigi's, Angelino's, The Black Taxi,  La Calaca Feliz, Townsend, Fare, and newcomers Hilltown Tavern Fairmount, and Bad Brother. We plan to go in depth to highlight the best options our neighborhood has to offer, like Julie's interview with the owners of our neighbor La Calaca Feliz, as seen below!
Groceries
Fairmount is lucky to be home to many great grocery options.  Whole Foods Market moved from a small storefront to a large flagship location drawing many people to the neighborhood.  It includes spaces for indoor dining, housing Philly greats such as Federal Donuts, Dizengoff, Goldie, and a dining area for their bar and hot/cold salad bars and bar fully stocked with craft beers.  An often overlooked but exceedingly invaluable asset to the neighborhood is Klein's Supermarket, located inside the Philadelphian, a family owned business that has been operating for over a hundred years!
Mainstay Businesses
We are proud to support these local businesses and appreciate the effort they take to give back to our neighborhood.
Ali's Wagon.  Boutique and gifts for all ages.
Bookhaven.  An independent bookstore; buy & sell used books
Fairmount Hardware
Transportation
Fairmount is well located within the city and has great public transit options.  Fairmount is roughly a 20 minute walk from Center City, or 10 minutes on bike.  The Broad Street subway Line anchors the eastern border of the greater Art Museum Area.  The 33, 48, 49, 7, and 2 buses all serve the neighborhood, allowing easy transit to Center City, Old City, South Philly and the shopping plazas, and University City.  Fairmount's main thoroughfares include Fairmount Avenue, Pennsylvania Avenue, Spring Garden Street, Kelly Drive, and of course the Ben Franklin Parkway.  
Real Estate 
Traverse the streetscape in Fairmount and you will see a variety of homes and living options.  The famous Bergdoll Mansion is located at 22nd & Green and has a long and storied past. You'll see other large grand townhomes – some have been converted into apartments for rent, while others have been converted to walk-up condos, while still others remain true to their histories.  High-rise condo living is also an option in the neighborhood, one that appeals to many who prefer amenities and low maintenance.  The Philadelphian, 2601 Parkway, and The Brewery Condominiums are all great condo-living options in Fairmount.  The neighborhood has many classic single family townhomes while new construction can be seen towards the edges of the neighborhood boundaries. 

If you are interested in making Fairmount your next home, give us a call!  With over 30 years of hyperlocal real estate expertise, we are here to make your dream a reality!