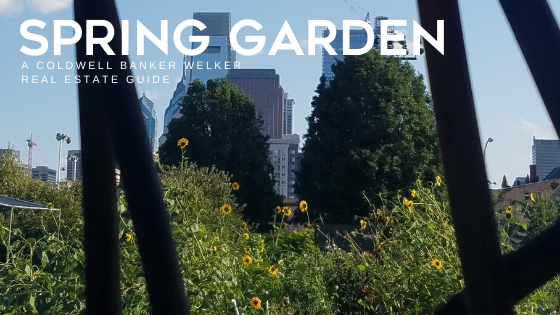 Spring Garden, Philadelphia
Spring Garden, much like Fairmount, started off as one of William Penn's manors on the outskirts of Philadelphia, named Springettsbury Farm.  Around 1850, the city began to grow and its boundaries along with it.  Large mansions and grand townhomes went up throughout the neighborhood in a variety of architectural styles such as Queen Anne, Venetian Gothic, Second Empire, and Italianate. 
Boundaries
Much like the surrounding neighborhoods that comprise the "Art Museum Area" the exact boundaries of the Spring Garden neighborhood are debated by neighbors, Civic Associations, and realtors, but a commonly accepted set of boundaries is:  North of the Benjamin Franklin Parkway, South of Fairmount Avenue, West of Broad Street, and East of the Schuylkill River.  The Spring Garden Civic Association lists its boundaries as the area between Spring Garden Street and Fairmount Avenue, from Broad Street to Pennsylvania Avenue / Fairmount Park.
Spring Garden Points of Interest
Spring Garden houses a collection of world class cultural attractions, from the Philadelphia Museum of Art, to the Barnes Foundation, the Rodin Museum, and the Fairmount Waterworks.  Many of the city's most popular events take place on the Parkway – The Philadelphia Marathon and the Made In America Festival for example.  The Community College of Philadelphia is also located in the Spring Garden neighborhood, in a building formerly used as the US Mint! 

The Spring Gardens were built from the ground up from neighbors looking to grow food & flowers for themselves and donation.  Did you know the opening credits to the Fresh Prince of Bel-Air were actually filmed in Spring Garden rather than West Philadelphia?! You can still find the Eagle mural from the background where Will Smith & crew filmed at Roberto Clemente Park at 18th & Wallace!  Another Spring Garden park you won't want to miss is nestled in between 18th & 19th Streets near the intersection at Hamilton; Matthais Baldwin Park was originally commissioned & conceived in 1981, but due to budget setbacks was canceled and revised and did not come into fruition until 1992.  Designed by world renowned artist Athena Tacha, the park is intended to offer a natural quiet retreat in the middle of bustling city life.
Spring Garden Food & Drink
Philadelphia is definitely a foodie city, and this concept is not lost on the Spring Garden neighborhood.  Within its boundaries you'll find local favorites like Kelliann's, Kite & Key, the Rose Tattoo Cafe, and McCrossen's Tavern.  Renowned chef Marc Vetri opened Pizzeria Vetri on Callowhill Street before opening an additional location in Rittenhouse.  Jose Garces also opened a new concept a couple doors down that's been successful, Buena Onda, and further down you'll find  Gyu-Kaku, and Sabrina's Cafe.  A stretch of great go-to takeout (or dine in) places dots the eastern end of Spring Garden Street – iTea, Stockyard Philly, and Mangia Macaroni.  Broad Street has a few can't miss places as well such as world class Osteria, the much anticipated Cicala inside the Divine Lorraine, and SOUTH. 
Spring Garden Groceries
Spring Garden is lucky to be home to some great grocery options.  Whole Foods Market moved from a small storefront to a large flagship location drawing many people to the neighborhood.  It includes spaces for indoor dining, housing Philly greats such as Federal Donuts, Dizengoff, Goldie, and a dining area for their bar and hot/cold salad bars and bar fully stocked with craft beers.  An often overlooked but exceedingly invaluable asset to the neighborhood is Klein's Supermarket, located inside the Philadelphian on the Spring Garden / Fairmount border, a family owned business that has been operating for over a hundred years!
Transportation
Spring Garden is an easily accessible neighborhood whether you're traveling on foot, on bike, on public transit or in your own car.  The Spring Garden and Fairmount stations of the Broad Street line service the neighborhood, along with several buses.  The neighborhood has ample bike lanes and provides easy access to Fairmount Park and the Schuylkill River Trails. 
Spring Garden Real Estate
As Julie Welker said in this 2019 Philly Magazine article profiling the Spring Garden neighborhood: 

"Spring Garden offers a wide spectrum of home choices. There are low-rise and high-rise condominiums ranging from $200,000 to over $900,000 as well as renovated, restored and new townhomes from $500,000 to $2,000,000.   The street, size, condition, outdoor space and parking determine the price."
We recently highlighted an amazing classic example of these grand townhomes, 1717 Wallace.  

Spring Garden has recently had an influx of new luxury rentals, such as the Dalian on the Park (also home to Whole Foods), The Granary, The Alexander, and The Hamilton.  
If your idea of homeownership values low maintenance and many amenities, Spring Garden has some of the best condo options in Philadelphia.  The Philadelphian and 2601 Parkway share a border with Fairmount, while the Tivoli and CityView are centrally located within the neighborhood.  The Colonnade is an interesting condo development in an old hospital with a dramatic lobby entrance that people often tend to overlook when considering condos in the Spring Garden neighborhood. 

We are here to help you with Spring Garden homes for sale!  Search with Coldwell Banker Welker Real Estate by clicking HERE.  With over 30 years of hyperlocal real estate expertise, we are here to make your dream a reality!